Unlike with other companies, our tutors already have at least 2-3 years of tutoring experience and most have teaching experience as well. Our tutors know the curriculum and the Common Core State Standards and have proven results in terms of raising children's grades and test scores. They are all personable, supportive, and encouraging, and can explain things in multiple ways to help struggling students achieve mastery of the material and conquer their fears. Our talented tutors also help students to become independent learners, thus reducing the need for indefinite tutoring.
Flexible Terms
Satisfaction guarantee
No minimum number of sessions
Contract can be terminated at any time
Scheduling with the tutor directly
Flexible rescheduling policy
Monthly payment
Outstanding Services
Carefully selected and thoroughly screened tutors with references and transcript/s checked
Tutors have many years of tutoring and teaching experience.
All tutors background checked
All tutors are tested in the subject/s they tutor.
All tutors give a mock teaching lesson to company president.
Friendly management
Outstanding student-tutor matching
Nearly 100% client satisfaction rate
Mission Statement
The goal of TutorPro is to bring students up to their full academic potential by providing them with exceptional tutors. We understand that a tutor affects many facets of a student's life, including academic success, self-esteem, motivation, and interest. Tutoring is a great responsibility. Therefore, we are committed to serving the public with well-paid tutors who take their profession very seriously.
Our Published Test Preparation Books: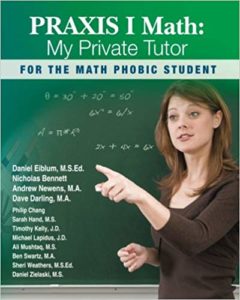 Praxis I Math: My Private Tutor helps prepare prospective public school teacher for their certification exam.